My Big Fat Greek Default
ST
Points)
on 2/11/10 at 6:14am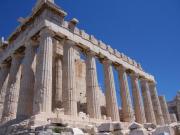 The markets have been choppy of late, due in no small part to the bit of drama playing out in the EU right now. A couple of EU nations are against the ropes in a big way, and there doesn't seem to be a coherent plan in place yet to deal with this next step of the crisis.
At the center of the problem are Greece and Spain. Greece is in worse shape than Spain, but not by a whole lot. And the Greeks have some serious problems with government transparency. Problems that were evidently exacerbated by a little monkey math on the part of Goldman Sachs.
It is being reported that Goldman helped the Greek government circumvent the Maastricht rules requiring full disclosure of financial condition by engineering a clever swap that enabled the Greek government to borrow money off the books. In fairness, they're not the only investment bank to do this, just the most famous.
My sources here are telling me that the prevailing inclination is to let Greece deal with the problem on their own. The current swaps market seems to believe otherwise, after some encouraging words from incoming European economic affairs commissioner Olli Rehn. I asked again, and my folks tell me that there is no stomach to bail out Greece, especially while most of the people in charge are heavily invested in Spain and would like an opportunity to get their money out at some point in the future. We shall see.
In the meantime, the mess is leading to a stronger dollar, which certainly helps.
Tags: