New jobs numbers came out yesterday. Now What?

Points)
on 8/4/12 at 2:30pm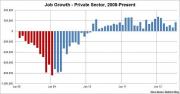 The jobs numbers for the month of July came out yesterday and as usual, they can imply several completely different things. At first glance, it looks promising: employment rose by around 160,000+ jobs in July, with growth in manufacturing, professional services, and health and education services. However, the recent report also mentions that unemployment ticked up from 8.2% to 8.3% (but statistically, nothing changed). Household data from the nation-wide surveys also showed a decline in both employment and the overall size of the labour force. Soooo.....now what?
As I said earlier, this type of report seems to happen every month. There's some good news and some bad news. But, I believe that it's ultimately bad. Sure, we may add some jobs here and there, but I think it will ultimately be this for the next 6-9 months, regardless of the upcoming election: disappointing/anemic growth and the slow decline of the ranks of the unemployed as jobless workers give up and leave the labour force.
So, what now? What can the government/Fed/the average worker do to help create a major productivity boost which can lead to more jobs? Are we stuck in this trainwreck of a recovery for the long term?
Tags: