New York Fed Getting Out of the Junk Business
ST
Points)
on 8/6/10 at 6:29am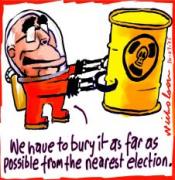 One of the greatest economic Rope-A-Dope schemes of all time might be coming to an end. The New York Fed is about to force Goldman Sachs, UBS, Bank of America and others to buy back the nuclear waste the banks foisted on the Fed under the guise of "collateral". The bulk of the garbage was unloaded during the bailouts of Bear Stearns and AIG.
A particularly rancid package of assets was dumped on the New York Fed during the managed rescue of Bear Stearns by JP Morgan Chase (discussed by Magoo on Wednesday). Valued at $30 billion at the time, the loans have continued to go bad over the subsequent two years and the entire package is estimated by some to be worth only $5 billion today.
This won't be a quick process, because literally millions of loan documents have to be gone through line by line. The banks will only be forced to buy back the "irregular" loans, which are loans that never should have been included in the collateral packages to begin with. In other words, the really crappy stuff the banks snuck in under the radar just to get it off their balance sheets. For example, mortgage documents on $700,000 McMansions signed by I.P. Freely, Mickey Mouse, Ben Dover, etc...
Debt buyers and insurers, who can rescind their coverage, are combing through loan documents for faulty appraisals, inflated borrower incomes and missing documentation that can trigger contractual agreements to repurchase ineligible assets as insurers seek ways to void coverage or recoup costs.
Of course, the banks won't be forced to disclose the losses incurred on 10q's and 10k's. That would be too much like honest accounting. It's still a victory for the taxpayer, however, and victories for the taxpayer have been few and far between throughout this shitshow. I'll take it.
Here's Bloomberg's analysis. They think it's the story of the year: