Ted Nugent Defends Wall Street
ST
Points)
on 5/6/10 at 5:26am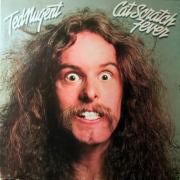 File this one under, "Uhh....dude? You're not helping."
Has-been rocker Ted Nugent wants Wall Street to know that he's got our back. In a Washington Times screed entitled, "Is the Kettle Black Enough?", Nugent gives bankers a pass and levels his death ray at a negligent federal government he repeatedly refers to as "Fedzilla". He points out several instances where the government failed to enforce existing regulations and he pins much of the blame for the overall crisis on the failures in the oversight of Fannie and Freddie. He's not wrong.
The truth is that the federal government, as always, has overtly wasted, lost and blown far more of our hard-earned tax dollars than Wall Street crooks could have ripped off in their wildest Bernie Madoff imaginations. Our politicians are the real bandits and culprits of our economic calamity.
Unfortunately, he jumps the shark from the get go with the tin foil hat conspiratorial tone of the piece and the thinly veiled racism. I'm a Ted Nugent fan; I grew up with his music, appreciate his self-reliant libertarian leanings, and I can even get behind his culinary sensibilities. But he trashes an otherwise relevant argument by asking if the kettle is "black enough", welcoming readers to the "Planet of the Apes", and then taking umbrage at the suggestion that Tea Party activists are illiterate racists. He wraps things up by suggesting the politicians be tarred and feathered and pointing out that "November is hunting season. No bag limit.".
Also, if I'm making a reasoned argument that government is ultimately responsible for the financial crisis, I'm pretty sure using Alan Greenspan quotes to support my assertion is going to have the opposite effect.
At a time when the industry is doing its best to fly under the radar, the last thing Wall Street needs is a cadre of half-smart pseudo-celebrities coming to our defense. What's next? Jessica Simpson explaining synthetic CDOs? Thanks for the assist, Ted, but we've got this one.
Tags: