The dark side of workaholism and why it is never too late to hit the breaks

Points)
on 1/3/13 at 12:30pm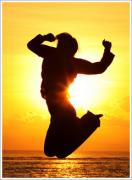 Hi tigers! I admit it - I used to be a workaholic. I used to see myself as an achievement oriented, results focused and hard driving career woman. I was in denial. The workaholism symptoms are really hard to spot. It started with a lingering feeling of guilt every time I took a day or even a few hours off. I remember liking to play the role of "earth mother". Always available to pick up the next pitch. Always happy to stay in the office during public holidays. Always ready to fly 5 hours on business for an one hour meeting. Then I realized that I stopped buying casual cloths (when would I wear them?) – Instead my business suits, white shirts, black leather bags and high heels took over my wardrobe. Maybe that is when I started to spend my weekends at the office. One day I woke up with a realization that my self-esteem was completely defined through work. Here is what happened next: <!—break-->
I got scared. The fear to lose my business card identity made me do irrational things. Like working even more! I was digging in until I was unable to switch off. The already high expectations from my bosses became even higher. Perversely, it made me feel needed and appreciated. Until one day it became clear to me that I changed and I didn't like what I saw. I used to be brilliant, capable, creative and easy to get along with. I became controlling, obsessed with performance and not interesting to talk to. I hit the bottom.
Today I am celebrating the 3rd anniversary of my decision to take a break and escape from my predicament. Instead of spending a hundred grand on an MBA I put a fraction of that amount in the best investment I ever made and travelled around the world for one year. I met great people, some of whom became my dear friends and mentors. I got my life and self-esteem back. My career perspectives look great because I am more creative, productive and motivated. I am not afraid to let go because I have a broader set of skills to build upon. Most importantly, I use my time strategically and focus on fulfilling my own dreams rather than getting paid to fulfil someone else's.
Are you a workaholic? What is your story?
!—break-->
The more you know the less you need. Right?