The Only Side that Matters: The Soft Side

VC
Points)
on 10/19/12 at 12:30pm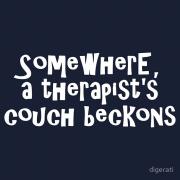 Although fear of being charged with slander in the future played an important role in why I changed my blog's topic for today, I mainly decided against it because something has been occupying my spare brain cells (the very few working ones) for a few days and it's about time I seek camaraderie among WSOers.
Look, I am not the deep type. I find most deep conversations lame and insincere, I don't ever want to talk about feelings or the effect of said feelings on life, paths, personalities, or behavior. Well, unless I do care and want to listen. Which is rare.
So, I will cut your caring time and save your attention span and possibly your patience and tell you that when asked, I without hesitation stated that the ONLY thing I am afraid of losing is "the sense of wonder". Feeling paranoid, I took a few days to evaluate every intangible and tangible asset in my life and imagined myself without it, and came to the conclusion that my answer was correct. I do not ever want to lose my sense of wonder.
I would be lifeless without it. I don't know what I will do if sequin seized to grab my attention, or how I can live with myself if I didn't have the urge to read, or gain knowledge on useful as well as relatively useless topics. I mean, if nothing is interesting to me anymore, then why do I live?
Wonder is a bitch sometimes, of course. I got in so much trouble because of this over inflated sense. I traveled to places I have no business being in, I ate little animals that shouldn't be eaten, EVER, I volunteered my brain to lots of mad scientists and I destroyed my childhood innocence by knowing too much too early.
Runner-ups included: My mother, working brain cells, a healthy body, a valid global entry passport and monkey sex.
We are all guilty of getting caught up in our own lives. We all take things for granted until we don't have those things anymore, and sometimes we don't even know that this thing mattered that much. I think it's not a half bad idea to remind ourselves from time to time. On one hand it might lead us to a better utilization of this thing, maybe more respect? More appreciation? And on the other hand, it could set us straight and forces us to better structure our priorities and for all you know, you discover something that makes you happy.
Now I want you to lie back on the couch, relax, close your eyes, take a deep breath, and tell me…What is one thing you can't live without?
P.S: Bring it, trolls.
Tags: