Top 5 "HR Complaint-worthy" lines heard during first months on the trading floor

O
Points)
on 6/17/12 at 12:30pm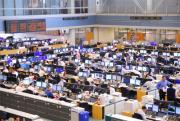 It's no secret that trading floors tend to be meat markets. So when I first started working down there I already had high expectations for what goes on there. One thing there was no shortage of - creepy old guys and a disregard for all those lessons we learn from those he sexual harassment trainings that were filmed in 1984.
I thought I'd share the top five lines I've received while in the "biz"
Before I list these out - a bit about me. I am a female CS major who worked on application support for a few months on the trading floor of a BB. I like to think under the right lighting I look decent. What follows are some of the creepier things that were said to me in my first few months on the floor.
:: creepy 60 year-old leans back in his chair:: "Wanna go take a break"
::on my way to the atm:: "i hope you get more in than you're pulling out"
"you look exotic - i bet you get really good tan lines"
Exchange with a trader in an elevator
Guy: "Do you like milkshakes?" ::takes long slurp::
Me: "No"
Guy: "I bet you just haven't had the right one..." ::proceeds to ask me out ::
Exchange with a security guard
Security Guard: "you work on the 4th flr right?
Me: "yes"
Guard: "Yea, i know what time you get in, when you leave and what train you take...where did you say you lived again?"

Bonus

::valentines day card left at my desk:: "You make my pyramid erect"

I'm sure that's not the worst of it. Share some of the gems that you've overheard or ever used on another female.