*Yawn* ...bankers...
IB
Points)
on 7/25/12 at 10:30am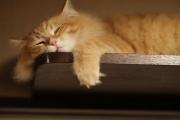 "Oh, hello there. Excuse me, I just woke up from my long slumber induced by talking to you. What was that again? Oh okay...yeah...Zzzzzzzzzzz...."
I know that the vast majority of you guys and gals out there are absolutely 100% attentive during informational interviews, phone chats, and other networking avenues with both junior and senior bankers. I also know that it can be a little tough to pay attention or get the conversation moving when you're talking to bankers, something I wouldn't necessarily expect, due to how often we laud ourselves for our superb social skills.
Now, the other day I met up with a partner at a boutique VC fund, and he had more of the "serial entrepreneur" background than the prototypical finance one. We hung out and talked about everything -- most things completely unrelated to VC -- for almost two hours and I can honestly say that I enjoyed talking to him. I didn't have to put my "networking" hat on and fire off 20 questions...in fact, I don't think I asked any of the questions that I came prepared with because our conversation flowed so naturally. At the end of the conversation, I straight up asked him for an internship and he was excited about the idea -- first time in my life where I didn't get the wavering "well, maybe, kind of but I don't know right now" response.
Obviously, there are a lot of confounding variables here. We did have a ton in common, so we had a lot to talk about, and thus the conversation was interesting. Maybe I just haven't run across someone in banking that I really had a whole bunch in common with, and when I do, I'll have a similarly extremely positive experience. This is also not to say that my experiences with bankers have all been negative (or at the least, not necessarily positive): in fact, I've had many great conversations with bankers, but the majority have been pretty boring and involved me firing off 20 questions to keep the conversation moving in at least some direction.
And when it comes to VC, maybe it's because the guys who wind up in VC are somehow naturally more outgoing or less conservative because they're often dealing with young people who come up with off the wall idea.
Thanks for reading. <3
"An intellectual is a man who takes more words than necessary to tell more than he knows." - Dwight D. Eisenhower
Check out my blog!