You mad? Why no, not at all, asshole :)

VC
Points)
on 8/1/12 at 10:30pm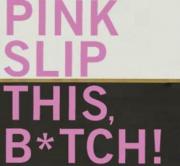 In a small conference room, I was greeted by my HR partner and one of the top dogs in my coverage group. I sat down, and my heart started racing a little and I could hear it in my ears. I also had an insane urge to pee.
Then a voice came beaming from the polycom: Disincentivy, we are letting you go.
They had begun to give me the cookie cutter reasons as of why they were laying me off, when I surprisingly to myself, and to them, interrupted to tell them that they should save the speech. It all took less than a minute.
My eyes shifted to The Dog in the room and I waited for them to say something, anything? I desperately wanted them to; after all, that person right infront of me is my mentor. I trusted them. They finally asked me if I have any personal items that they can help collect for me. (Are you fucking kidding me?) Angrily, I gave them a list of things, and warned them (with a slightly bitter tone) that if any of my shoes were missing, I will sue them.
I was being escorted by security to the elevator banks, when I remembered I wanted to pee. My mind was completely off the topic and on to controlling my tiny bladder.
I had a pity party for 2 hours then I met amazing friends for hookah. By the time I went home, I was dandy. I accepted a VC offer in the next couple of days, strolled through Central Park, played with psycho squirrels, read, cooked, spent more time with friends, and off I went to my new job on the following Monday.
I had received five calls from my ex-employer. They were all pertaining to the bank laptop and BB that I still have in my possession, which I am planning to possibly give them a collective heart attack before I return. Today I got another call that I couldn't take. I expected the voicemail to say something along the lines of " WE FUCKING WANT THAT FUCKING LAPTOP, BITHC", but I was surprised to hear The Dog's voice. He asked if we could have drinks and see if our mentorship could continue.
I have to say that I am not sore now and that I am glad this whole scary and unnerving experience happened while I am still young and able to rebound quickly with minimum collateral.
If you're one of the thousands whom, like me, got laid off this round, I feel for you, i am sorry you had to go through it, but please do not panic, it really is not the end of the world.
I may not be on the Jedi Council, but I sure am great with the Force.