Your Job Won't Be On Wall Street, If You Have One

O
Points)
on 7/12/12 at 10:30am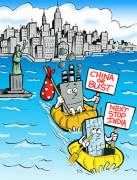 Although most people on WSO shoot for Front Office jobs the majority of "Wall Street" works in the Middle Office and Back Office. These jobs are quickly moving away from Financial centers like NYC and London, and other cities and states are offering incentives (like ca$h) to get them there. This is called "near-shoring," the movement of jobs away from a major center to a location in the same region for cheaper costs. But movement of finance jobs offshore is happening also:
"Places like New York or London will remain financial centers, but most of the players are taking a much harder look and asking whether they can move large numbers of jobs." The erosion of middle-tier jobs in the financial sector is not limited to New York. The president of Goldman Sachs described what he called the firm's "high-value location strategy." By looking outside hubs like New York, London, Tokyo and Hong Kong, he said, the firm could save 40 percent to 75 percent on job-related expenses.
Is this beginning of the outsourcing of U.S. financial jobs? Are you worried about your future prospects in this industry?