Don Draper vs. Roger Sterling - Who Would You Rather Be?

ER
Points)
on 1/2/13 at 1:07pm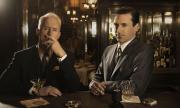 I'm sure every monkey on here watches Mad Men (and if you don't, what the hell is wrong with you?), so I think this is an interesting question to ask. Who would you rather be? Mr. Draper, or Mr. Sterling?
I would rather be Don...both men have similar problems, but Don scores some of the best looking chicks on the show. Plus that one episode where he called Betty a whore after having cheated on her a 1,000 times, fucking boss. The only downside with being Don is you are always living in fear of getting caught by the FBI.
Tags: