How Does One Increase the Amount they Charge in Consulting?
Points)
on 7/5/12 at 5:00am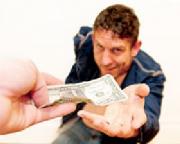 I've been talking to some of my friends who are independent consultants who are making crazy amounts of money for daily charges from their clients. It reaches a range of around 2000-2500 bucks. What do you guys think? How easy is that? I'm sure you have to be in that niche within the market in order to make that amount of money.
This is a ***SPAM LINK*** that I've read about it; however, I'm not too sure about the possibility of this. I would love to hear what you guys say about it.
Best.
Mod note: If you are going to post links to your blog, please do not be disingenuous about it. You have been warned! -IlliniProgrammer