HR CAN SUCK MA BALLZ

O
Points)
on 5/17/12 at 4:55pm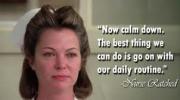 WHAT THE HELL EXACTLY DOES HR DO?
Let's start at the beginning: I take the same train to work as a person from my hometown that works in HR. The other day, I was asking them about the finer points of what HR is looking for at their company (much larger than my current employer). They asked why I was so interested in how HR works.
I probably could have worded it better but I spoke without thinking and said, "I've networked into all of my jobs, and even went so far as to buy drinks for recruiters. My stats going into the workforce were horrible, so HR has always been a thorn in my side. I actually prefer they don't do their jobs because I just have never had any luck dealing with them....even now, and I have experience. I understand that I made mistakes, and I fixed them, but they can't seem to get over that...so I've just been forced to work around them. A few years ago, I was told I'd never find a job, and the HR person that said that was dead wrong. But I'm tired of it. I need to understand the system so that I can continue to progress, and that's why I'm asking you how they work."
This apparently pissed them off, but in my case it's the truth. They then launched into a tirade about how THEY make the hiring decisions, networking is bad, and how they expect job seekers to show them 'respect'. I didn't say anything and let them bitch largely because I'll take them out one of these days, get them drunk, and have them lobby for me at their company. So I let it slide. Besides, I should have been more diplomatic, I'm usually smarter than that. But it got me thinking.
It's no secret on this site that I have an open, raging hatred of HR, and prefer to treat them like they don't exist, but I realize that in the long term, they're a factor. I also realize that if I want to work at a bigger company or go to grad school, I'll probably have to go through the recruting process again. No one likes hearing "no" but I'm inclined to think that HR thinks they're more important than they are. I'd like to do things right and avoid a second time going through the "Ninja Networking Olympics", there really has to be a better way.
So what am I getting at?
This is an open letter to every and anyone with HR contacts, understanding, and/or experience to post their thoughts on HR. What do you think?
* What's the best way to be taken seriously by HR?
* How does someone with a less than ideal resume effective interface with HR?
* And how does HR feel about people that just go around, behind, and over their heads?

GET TO DE CHOPPA!