If you want to quit - SOLDIER ON BOY and stay put!

ST
Points)
on 9/1/12 at 12:03pm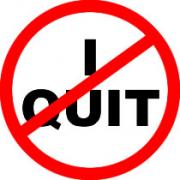 I was going to reply to some kid bitching about his job, and how bad he felt about being shit at it. But instead of replying directly to him I thought I'd make a more generic motivational post:
It's a very tough environment, has been since 2008 when I started. After my first year I was interviewing with a lot of other banks trying to get out and find greener pastures (did not end up moving, although had an offer from Merryl). I had plenty of reasons to move: real tough environment, traders were tough, bosses were tough etc... Some of the guys in my grad program dropped out within the first year on the floor. Just could not take it. If you manage to make it to associate you have made it, and people know you are bank worthy - you HAVE to make it to that point to really help yourself in your career afterwards. Note: you can get out as an analyst, but you are slowing your growth prospects, plenty of my friends lost their jobs as analyst and restarted at other banks losing on pay, but that's life.
Does it get better after? Kind of, but no.
Right now everybody is struggling, and everybody is shit at their job. In banking everything is tough, it's a zoo, at the beginning you are just monkey shit, you might have upgraded to seal pup, but you are still in a zoo, getting fed what your clients want to feed you, and nothing more. Key is how good you are at begging them to throw peanuts at you.
I feel like I have been shit at my job for 4+ years now, yet I am still beating my industry peers. I am one of the only poor SOBs left in my business among all my major competitors. I wake up, and sometimes I make zero dollars in a day, that never happened to me in 2009, fuck, even in 2008 it was better! Key thing is to keep on trooping. You HAVE to pick up that phone, you HAVE to get shat on, if you give up - they will get rid of you. It's not the guy who is not printing who loses his job, it's the guy who might print a bit but who has lost motivation. You can feel it - you can SEE IT, (people tend to be pretty blatant about watching youtube all day long at my work.....)
The point I am making is: it's tough at the start, extremely tough (some people just luck out, but the vast majority of us do not). Then you move on to the next rank, and it is still tough, even tougher as you have targets. But you have to keep on trooping, and do not give up - I moved to another bank a year ago as a VP, allowing me to skip a few years as an associate. I am still struggling, MDs are still struggling. But it's the economy, YES WE CAN, but when no one can do anything around you, it's hard to can-can.
A bit of a ramble, so I'll try to sound my mind in a few words:
Take it like a man, don't moan - too many people are moaning at the moment. Work hard - it will pay off (as long as you understand office politics...) And no - banking ain't easy, that's why they pay you more than your dad.