Losing yourself to finance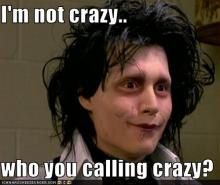 Have you guys seen yourselves becoming consumed in finance?
What I mean is...for the past few months (and by extension, the past few years of prepping for an SA position) I've surrounded myself with so much finance and market related information it's hard to imagine what life was like before. In my case specifically, limiting going out and trying to surround myself with people that were also finance orientated.
There was a thread on WSO about women dating finance guys, and the fact that they could only talk about finance. I thought that was silly at first, until I realized I was probably one of those guys. I mean I'm thankful for my situation, and my "exit ops" seem promising, but it has probably taken a toll on my normal social skills. But you gotta be a little crazy to become successful right?
The WSO Advantage - Investment Banking
Upcoming Events
Nov 29 2015 - 8:00am

to

Nov 30 2015 - 8:00am

Nov 29 2015 -

12:00pm

to

1:00pm

Nov 30 2015 -

8:00pm

to

9:00pm

Dec 2 2015 - 8:00am

to

Dec 4 2015 - 5:00pm

Dec 2 2015 - 8:00am

to

Dec 3 2015 - 8:00am
Poll
Long term, which career path interests you the most?
Accounting
1%
Asset Management
10%
Commercial Banking
1%
Consulting
4%
Corporate Finance / Strategy / Development
9%
Entrepreneurship
6%
Equity Research
3%
Fintech
2%
Hedge Fund
18%
Investment Banking
9%
Investment Advisor / PWM
1%
Private Equity
16%
Prop Trading
2%
Real Estate
6%
Sales & Trading
3%
Venture Capital
6%
Other Finance Role (academia, non-profit, government, legal, etc)
1%
Other - Non Finance
2%
Total votes: 1181