Networking Etiquette Question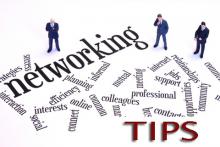 Hey gents, my first post here. In short, I go to Cornell as an undergrad and as it's winter break I'm just studying up for next semester, got some job shadowing in NYC coming up, and just doing a shit ton of networking. I have a question here on best way about doing this.
So there is some guy that works at a hedge fund in Boston, he's an alum of Cornell's Johnson. I found him through linkedin. I wanted to email him but the hedge funds email format is first name, middle name initial, and last name. (Don't know his middle name so can't send). I don't want to stalk the guy here, but would it be okay if I either A. Called Johnson at Cornell to see if they could pass my contact info along to him? Or B. Call the hedge fund direct and see if they'd transfer me to his direct line? I already sent a linkedin connect along to him. Thanks and Happy Holidays.
The WSO Advantage - Land Your Dream Job
These 6 FREE Financial Modeling Lessons
Can Help You Land Your $100k+ Dream Job
Our Fun Excel Training and Challenge Contest
DCF Modeling, Tons of Free Templates & Video Tutorials
Valuation Lesson on Trading Comps
Cash Flow Modeling and more!
I would normally sell this for at least $200, but we're offering it for free as a sweet bribe to join our community of 350,000+ members. See you on the inside!
Lazy? Join us and get the 6 free lessons with 1 click below!
6 Free Financial Modeling Lessons...and More.
Enter e-mail to get our Modeling Tutorials (Worth $200+)
Upcoming Events
Oct 14 2015 - 11:00pm

to

Oct 15 2015 - 11:00pm

Oct 15 2015 -

9:00am

to

10:00am

Oct 15 2015 - 3:00pm

to

Oct 16 2015 - 3:00pm

Oct 15 2015 - 11:00pm

to

Oct 16 2015 - 11:00pm

Oct 20 2015 -

11:00am

to

12:00pm
Poll
Long term, which career path interests you the most?
Accounting
0%
Asset Management
7%
Commercial Banking
1%
Consulting
5%
Corporate Finance / Strategy / Development
8%
Entrepreneurship
6%
Equity Research
4%
Fintech
2%
Hedge Fund
20%
Investment Banking
10%
Investment Advisor / PWM
1%
Private Equity
17%
Prop Trading
1%
Real Estate
5%
Sales & Trading
3%
Venture Capital
5%
Other Finance Role (academia, non-profit, government, legal, etc)
1%
Other - Non Finance
2%
Total votes: 524