Recent Grad Sues College for Tuition
(Human, 17,558 )
on 8/2/09 at 11:39am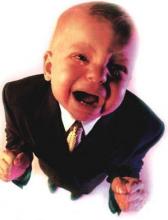 This is priceless.
Trina Thompson, a recent graduate of Monroe College in the Bronx, is suing the school for the $70,000 she paid in tuition because she hasn't found a job yet (she graduated in April) and "the school hasn't done enough to help." Absolutely classic:
http://www.nbcnewyork.com/news/local-beat/College-...
On top of her unemployment woes, Trina now faces mounting debt from student loans.

"This is not the way we want to live our life," her mom told the paper. "This is not what we planned."
Oh, really Mom? Because the rest of us have been planning for this life-altering recession for years. You didn't get the memo?
Good luck with this, honey.
The WSO Advantage - Land Your Dream Job
These 6 FREE Financial Modeling Lessons
Can Help You Land Your $100k+ Dream Job
Our Fun Excel Training and Challenge Contest
DCF Modeling, Tons of Free Templates & Video Tutorials
Valuation Lesson on Trading Comps
Cash Flow Modeling and more!
I would normally sell this for at least $200, but we're offering it for free as a sweet bribe to join our community of 350,000+ members. See you on the inside!
Lazy? Join us and get the 6 free lessons with 1 click below!
6 Free Financial Modeling Lessons...and More.
Enter e-mail to get our Modeling Tutorials (Worth $200+)
Upcoming Events
Oct 10 2015 - 8:00am

to

Oct 11 2015 - 8:00am

Oct 10 2015 -

1:00pm

to

2:00pm

Oct 11 2015 - 8:00pm

to

Oct 12 2015 - 9:00pm

Oct 14 2015 - 8:00am

to

Oct 15 2015 - 8:00am

Oct 15 2015 (All day)

to

Oct 16 2015 (All day)
Poll
Long term, which career path interests you the most?
Accounting
0%
Asset Management
8%
Commercial Banking
1%
Consulting
5%
Corporate Finance / Strategy / Development
8%
Entrepreneurship
6%
Equity Research
4%
Fintech
2%
Hedge Fund
21%
Investment Banking
10%
Investment Advisor / PWM
1%
Private Equity
16%
Prop Trading
1%
Real Estate
5%
Sales & Trading
3%
Venture Capital
5%
Other Finance Role (academia, non-profit, government, legal, etc)
1%
Other - Non Finance
2%
Total votes: 478