Why The Street Loves LinkedIn
AM
Points)
on 8/18/12 at 3:00am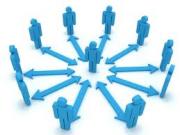 I'm posting this for Patrick since he's an avid fan of the stock. This came from Business Insider.

Why LinkedIn Is The Internet Stock Wall Street Loves
LinkedIn has several streams of revenue: subscriptions, job listings, and advertising. Dig deeper and you see that all of those revenue streams have their own nuances. For example, LinkedIn gets subscription revenues both from big companies and from individual professionals, and its growing its brand-advertising business that's targeted at the site's attractive demographics so it's less dependent on employment-related ads.
In short, even if you're bearish on one part of LinkedIn's business, odds are you'll find something else you like.