A King in Name Only

Points)
on 6/14/11 at 12:00pm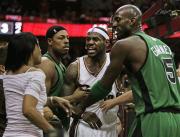 In the wake of the Dallas Mavericks seemingly improbable NBA title run I feel compelled to do a little preaching. For the credential part of my presentation I will say that I was never very good... at anything that is. I never got a job people would envy. I never made a team anyone would root for. I never had the looks, the brains or the personality. But what I did have and what I do have and what I will always have is heart. Having heart is the only skill every one of us can fully develop. Loving life and loving yourself enough to give a shit. That is how I define it.
LeBron James has no heart. He has no guts. He has all the talent I never had. In a game of one-on-one hoops LeBron would tear me apart. But in the game of life I am a far bigger baller than he will ever be… and so are most of you. As we have all heard, read and said a lot about the man already, I want to emphasize that this is not about the King, who (paraphrasing the expression)… has no clothes. This is about you guys trying to make it in the jungles of Wall Street and in life.
LeBron is the perfect example of why no amount of money, power and popularity will automatically make a man out of you. His failure on the basketball court is a mirror image of the failures of the financial industry in recent history. Privileged, paid and about as pure as bucket of piss and puke. Don't play the game the way he does guys. Here are a few reasons why…

...Or You Got A Wicked Jump Shot
These were the words that my generation of young city kids lived by. I grew up with guys like Kenny Anderson, Stephon Marbury and the legendary Lloyd Daniels. I played basketball and I not only loved it… I lived it. I was a forward adept on the wing and more than willing to bang on the low block. I could have been one of the greats, like Bird and McHale in the same body. The only problem was that that body was missing a good foot in height in order to trouble defenders past the early years of high school ball. That is why I took an obscene amount of pleasure in watching LeBron James fail miserably this past weekend. Someone with so much more talent than anyone in the history of the sport, but still too cowardly, arrogant and pathetic to do something with it.
Before I drift too far into my own hate for this media concoction who is realistically not even a top 100 player in the NBA all-time, I want to highlight the real purpose of this post. It is to make an analogy to the financial industry of today and its players … you guys. Whether you are the silver spoon kid like LeBron, a doofy hard working nerd like Dirk Nowitzki, a brooding genius like Kobe, a waste of good genetics like Mike Dunleavy or the reason why marijuana is indeed a cheeseburger gateway drug like Eddy Curry…you are playing in the top league on the planet.
Don't fuck up.
Don't sulk. Don't give in to pressure. Don't give in to temptation. Don't shy away from responsibility. Don't rely on teammates by hiding behind them. Don't speak in clichés. Don't be afraid to take criticism. Don't be anything but your own worst critic. Don't have an entourage. Don't sell your hometown or your team or your friends out for a bigger payday…there will always be money in this game. Don't talk about winning until you've won. Don't allow others to shower you with praise you know you don't deserve. Don't shy away from conflict. Don't shy away from contact. Don't pass the ball in tight situations unless it is to help someone else score. Don't pass the ball in tight situations because you are afraid or don't know how to score. Don't bully those who are weaker if you cannot stand up to those who are tougher. Don't count on talent. Don't think your reputation will get you the crucial call in a pinch. Don't ever underestimate a German. Don't be a bitch. Don't ignore this.
For anyone that did not get the point. This is not at all about LeBron James.