Bonus Bananas July 20, 2012
ST
Points)
on 7/20/12 at 9:01am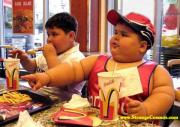 1) How Jamie Dimon hid the $6 billion loss (CNN Money) - It ain't easy hiding a whale, especially a whale everyone knows is there. How do you cover a $6 billion loss in a quarter? Why, take the money from your loan loss reserves, of course! (Wait...that's a bad idea, right?) Doesn't hurt to scapegoat a few employees either.
2) Bank of America Posts $2.5 Billion Profit, Helped by Cost Cuts (Dealbook) - It's great news that BAC finally turned a profit, especially considering how miserable the quarter has been for just about everyone else. It sucks, however, that a big part of BAC's gain came at the expense of employee's jobs.
3) Partners Forever (or close to it) (AVC) - I don't think Romney can win the Presidency, but I think Obama can lose it. One way he might do that is by making nonsensical assertions about Romney's time at Bain. Here Fred Wilson explains how he's still writing operations checks for a fund he left more than a decade ago.
4) Confessions Of A London Investment Banker: 'Every Day You're Closer To Getting Fired' (Business Insider) - If you're looking for some dark humor (or sometimes just plain darkness) about the banking business, look no further. Good stuff.
5) Surviving the investment bank "killing zone": Renaissance (Reuters) - This is an older article, but it goes into who's going to survive this meat grinder industry of ours. Hint: you don't want to work MM unless your bank is very, very good.
6) Workday: The Gentleman's IPO (Business Week) - This is an article from last month about the impending IPO filing for Workday - the new kid on the block in Enterprise business software. I'm posting it today because the company filed to go public under the JOBS Act on Tuesday and listed MS, Goldman, and JPM as the deal runners. Rumor has it they're looking to raise $500 million in an October IPO, which would make it the biggest deal since Facebook.
7) Market Savior? Stocks Might Be 50% Lower Without Fed (CNBC) - I don't think it's any secret that the market would be much lower without the massive Fed intervention of the past couple years. How do you spell BUBBLE?
8) How Summer Is Making U.S. Kids Dumber and Fatter (Bloomberg) - This is a really interesting piece on the socio-economic dynamic of summer vacation. The study shows that poor kids come back to school in the fall a full semester behind the level they were at when they left school for the summer, while rich kids come back to school at or above the level they were before vacation.
9) Americans' Concerns About Obesity Soar, Surpass Smoking (Gallup Wellbeing) - Are Americans finally sick of looking at disgusting fat bodies all day? It must be time to get the government involved, because we surely can't take responsibility for ourselves. Hurry up and make that Big Gulp illegal.
10) Rich Kids of Instagram (RKoI) - I actually spent a fair amount of time writing up a well thought out treatise in favor of a 100% estate tax, when all the while these guys were coming up with the best argument of all. There is no way to look at these photos without wanting to damage these tools. It's a brand new site, but could be some competition for Hot Chicks with Douchebags.
Video of the Week:
Not all of you are going to like this one, but I found it both funny and interesting. It's Rolling Stone's Matt Taibbi in a park with a megaphone explaining the LIBOR scandal in plain English. Whatever you think of the guy, his grasp of today's financial issues is pretty solid for a journalist. Enjoy:
That's it for the this week, guys. Let me know what you think of the Bananas in the comments, and have a fantastic weekend!