Burry on Bloomberg

Points)
on 7/20/11 at 6:37pm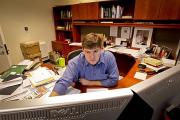 I don't really follow Bloomberg's risk takers series since I couldn't quite relate with most of the people they profile but last night they had an excellent piece on someone I know we all couldn't get enough of: Subprime genius Dr. Michael Burry.
As I said, it's pretty good. It takes you from his first stock analysis way back when he was still in high school, to his misadventures in med school (he fell asleep during an operation because of his all-night stock blogging), to him launching Scion, and then all the way to subprime along with all the trials and tribulations he had to face along the way. It also has a few anecdotes about him from Michael Lewis and one of his analysts (bit confused here, always thought the dude was a one-man army) as well as a couple snippets from his investor letters. His investing style? It's in there too.
Check it out after the jump.
People like Coldplay and voted for the Nazis, you can't trust people Jeremy