Cioffi Comes to Terms with Obscurity
ST
Points)
on 8/20/10 at 3:15am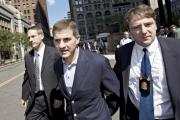 Disgraced Bear Stearns hedge fund manager Ralph Cioffi has found his happy place. Still only one of two high-profile bankers to face criminal charges since the crash (the other was his partner Matthew Tannin), he's gone into self-imposed exile since being acquitted of all charges in November 2009.
Due to ongoing SEC investigations, he can't find any work on the Street. But he's set himself up in business with his two sons trading his own money, and it at least sounds like he's pretty satisfied with his situation. He's sold off most of his assets in the Northeast and he's getting ready to move to Florida to be closer to family.
How we deal with failure says more about our character than how we deal with success. Failure is something we are loathe to discuss objectively on Wall Street, save for when we're gloating about someone else's. I think many of us don't want to tempt fate by even talking about it. It's too easy to recall hundreds of Lehman bankers given a couple hours to get their stuff out before the doors were padlocked, and we all fear the same thing happening to us to varying degrees.
But failure is an ever-present reality of the Street, and in a lot of ways we make it worse than it actually is. Cioffi proves that, and I applaud him for it. Did he want to ditch the sports car for his wife's Honda Pilot? Probably not. Has it made an appreciable difference in his lifestyle? Definitely not. He's still getting from Point A to Point B.
We've discussed two massive hedge fund managers leaving the business this week, one at the very top of his game (Stan Druckenmiller) and the other basically thrown to the wolves (Ralph Cioffi). Isn't it ironic that they both enjoy the same things about being out of the business? There's a lesson there, fellas.
Until they start putting luggage racks on hearses, there are more important things in this life than Wall Street. And there are far worse things in life than failure. It sounds like Ralph Cioffi has figured that out.
"I can honestly tell you I am very much at peace. I am very happy with my new life, I am very happy with my self-employment," he said. "I'd love to be able to get back to a more normal, traditional job. But, obviously, I don't think that's a possibility."
What's the worst thing that would happen to you if you lost your job tomorrow? Would you be homeless? Unable to feed and clothe yourself? Utterly destitute and without resources? I doubt it. But it's something we fear so much without looking at it objectively. Losing your job tomorrow might be the best thing that ever happened to you.
I've been fired a lot in my career. Like my first two marriages and a number of other romantic relationships, the things employers loved about me in the beginning came to be the things they hated most when it all came crashing down. But every time I've been shown the door, something better has been right around the corner that I wouldn't have had access to if I were still employed.
For those of you who think Wall Street is the pinnacle of human civilization, give it a rest. It's just another job, and one that's shittier than most. I'll grant you it pays better (most of the time), but it exacts a toll like any other line of work. I promise you it wouldn't be the worst thing in the world if you had to turn your back on it tomorrow.
The best advice I can give is this: Don't work for them. Make them work for you. Make your money and get the hell out. There is life outside of 100-hour work weeks, and I promise you it kicks ass.
Bury yourself in your work if you have to, but grant yourself early release for good behavior. You can bet your ass Druckenmiller wishes he had ten years ago before the Dot Com Bust.
Keep it in mind this weekend. After all, there's only two working days left until Monday.