City Smackdown - Part 3: São Paulo, Brazil

HF
Points)
on 9/4/12 at 9:00pm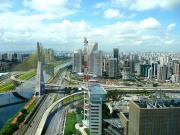 After a few years abroad, I had an offer to go back to my native country, Brazil, to do some PE work. That wasn't so long ago: the European economy was already showing signs of deceleration (oh, how I love those market-related euphemisms!). Actually, shit was hitting the fan real hard in our London-based businesses.
It seemed to me like a sound plan: accepting an offer to work for a solid international firm, doing high-impact/high-visibility work, and best of all, in a country I was really looking forward to go back to. Some have asked me whether São Paulo is an urban paradise, overflowing with money, raving nightclubs and awesome women. Well, sorta. Let's get to it.
São Paulo, Brazil:
The first thing to realize is that working in São Paulo means working for a Brazilian business, even if it's a sub of a global bank. São Paulo may aspire to become the "Latin American New York", but currently it is a Brazilian hub at best. And you may have heard of all the World Bank rankings, such as "doing business in", and "paying taxes in". Skim through those and you will realize that Brazil is a nightmare place in terms of getting things done. Bureaucracy is among the worst in the world, and the tax system is incomprehensible. What about more mundane things like street safety and traffic? Definitely not for the faint-hearted.
Furthermore, the work culture doesn't help those who come from abroad. Despite the fact that people are very friendly and inclusive towards foreigners, the vast majority of business is still conducted in Portuguese, and there is little to be done in São Paulo if you don't speak the language, even at C-officer levels. Spanish is only helpful if you're so good with languages that you can transition to Portuguese, or at least high-level "Portuñol", in a few months.
So it's "forget about it unless you're Brazilian"? Definitely not. First, because when you take some time to think about cultural proximity, you quickly realize that B is the only BRIC that actually shares an alphabet with the majority of the financial world. Whatever it is you want to sell, from Q-tips to a follow-on equity offering, doing it in Brazil isn't that much different from doing it in the US. Brazilians are somewhat Portuguese in their manners, habits and lifestyle. And yes, that means they don't work as much as their US counterparties.
What does that all add up to? Well, I mentioned how hard it is to make it in New York, given the competition. But talent that would be rated average in NY or London, goes a long way in São Paulo. So, if you are really adaptable, are not scared of being robbed here and there sometimes, speak decent Portuguese, and perhaps most importantly, don't mind spending a few years networking yourself into a new society, don't think twice. São Paulo is a great option to get some international experience in a region that will probably experience higher growth and provide its financial elite with real opportunities of making it big and fast.
Oh, yes, I almost forgot the whole women/fun part. Everything you hear is true. Brazilian women are truly amazing, and São Paulo attracts - mainly through its fashion and media businesses - some of the most amazing specimens in the entire country. You may have heard it also, but in case you haven't: Brazilians have a long-standing reputation of knowing how to throw a party. Cool clubs and bars are everywhere, and if all else fails, Rio is only a 40 minute flight away!
So, how does São Paulo sound to you?
Note: It's not my intention to make this a travel guide, so I've intentionally left a bunch of stuff out. Make sure you post your questions about food, music, travel, and anything else in the comments!