Help Me Pick My Stickk
ST
Points)
on 12/31/12 at 7:30am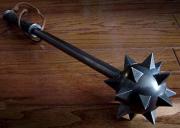 Here we are on the last day of 2012, and no one is more excited about it than I am. There were a few high points for me, but overall it was a pretty boring year and I'm happy to put it in my rear view. Based on some of the stories on WSO, I know I'm not alone in feeling this way.
I've always loved New Year's because it feels like a new start even if it isn't. For the longest time I put a ton of stock in January 1st. I'd start fleshing out my goal plan for the coming year over the four-day Thanksgiving weekend, and that way I'd have a running start towards achieving it come the first of the year. These days there's nothing I want that badly anymore (which is a pretty sad thing to admit in and of itself) and my goals for the coming year have morphed into the more esoteric and cerebral, and are therefore less tangible and more difficult to measure.
But I've decided to try something new this year, and I need your help to make it most effective. I find that I'm no longer motivated by incentives. In the past I would promise myself a Caribbean vacation (for example) if I hit a specific goal. Over the years, however, I got into the habit of just rewarding myself whether or not I was successful, and therefore a positive incentive no longer holds any real meaning to me. I think what I need is pain and not pleasure. That's where you come in.
I attended the CreativeLive seminar with Tim Ferriss a couple months ago, and of the many things I got out of it one of the most intriguing was Stickk.com and the behavioral science behind it. It was one of those "A-HA!" moments for me. Incentives no longer work for me, but disincentives probably will, as long as they're painful enough. That's what Stickk is all about, and how they got their name (i.e. the carrot and the Stickk).
Here's how it works: you make a commitment to achieving a specific and measurable goal. Boom, that's the same as any other goal setting exercise. What sets Stickk apart is how they motivate you to achieve your goal, and this is the real genius of it. You pledge an amount of money that is meaningful to you and, wait for it..., if you don't achieve your goal in the allotted time the money is forfeited to someone or some cause you hate (in my case $5,000 is enough to make me squirm if I had to give it to someone I hate).
To ratchet up the pressure on you, you have to appoint a third party to verify your results and you can elect to have those results broadcast to your social network. So that means all of your Facebook friends are gonna know you failed and that you donated a bunch of dough to The George W. Bush Presidential Library, and you then suffer the social fallout from said failure in addition to losing the money.
So what I'm looking for from you guys is a really great anti-charity to pledge my dough to. I'm talking about something really distasteful to a libertarian like me. The best I've come up with on my own is The Creation Studies Institute, but that's mostly painful for the ironic social fallout it would cause in my life. I'm looking for something that just makes my stomach turn at the thought of giving them money.
So let's see what you've got. What would motivate you to achieve all your goals just to make sure this organization wouldn't see a cent from you? And do you think a negative motivator would work better for you than a positive motivator?
Tags: