Last Minute Beach Read
ST
Points)
on 7/24/12 at 7:30am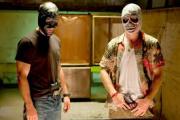 If you're like me, you probably only read fiction at a 3:1 or 4:1 ratio with non-fiction, with a heavy bias towards financial non-fiction. I haven't read much fiction over the past year with the exception of the Game of Thrones series.
I have four magazine subscriptions. I'm talking about actual print magazines that arrive monthly in the mailbox for consumption on the shitter (quaint, I know). I get BusinessWeek, Inc, Men's Journal, and Urban Farm (don't ask). So last night I was flipping through the latest issue of Men's Journal and I found a piece about Don Winslow. I'm kinda surprised to say that I'd never heard of him because he's written 16 novels, a number of which were best sellers. He writes the sort of hip, gritty crime novels which Elmore Leonard is famous for, and Oliver Stone just made a movie of his novel Savages.
MJ usually doesn't steer me wrong, so I bought the Kindle version of The Kings of Cool last night. I picked that one because it's a prequel to Savages, and moreso because it was the cheapest of all his Kindle books (hey, I said I wasn't familiar with the guy, right?). Well, let me tell you. I was up until almost 2 this morning reading it. As in, couldn't put it down. Don Winslow is legit.
The Kings of Cool (and Savages, of course) is a story about three friends who grew up together - two guys and the girl they're both in love with (and vice versa). One of the guys is a bona fide genius Berkeley grad, and the other guy is a killed-more-people-than-cancer Special Forces goon. Together they run the most successful hydroponic marijuana operation in Laguna Beach. Naturally, the various bad guys on all sides of the law are looking to take a piece of their business.
If you're looking for a really fun read this summer, go check this out. I'm kinda wishing I'd read Savages first (it was written before Kings of Cool), because now it's out in the theaters and I didn't even know Oliver Stone was working on it. I'm often left scratching my head at some movie casting choices, but after reading Kings of Cool for a couple hours last night I can say 100% that Blake Lively is the perfect casting for O. Here's the trailer for the movie:
Anyway, I don't read much fiction so when I do I want it to be enthralling, and this definitely fits the bill. Winslow has a somewhat stilted writing style, but I found it pretty easy to get used to. Check it out if you're looking for something to read on the beach this summer.