Singapore? More like Singa-rich!

CF
Points)
on 8/17/12 at 10:30pm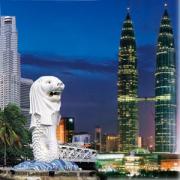 Singapore is predicted to be the wealthiest nation by 2050, according to an article by CNBC, which is based on a study conducted by Citibank. I had made a post about Singapore awhile back, and there was a mixed response about the lifestyle and banking industry there. Also, here is the top five, which doesn't include oil rich nations:
According to Citibank's 2050 prediction, the top five countries by this measure will be:
1. Singapore: $137,710
2. Hong Kong: $116,639
3. Taiwan: $114,093 (Congratuations, Taiwan, Citibank analysts think you'll make it 2050 without being consumed by China.)
4. South Korea: $107,752
And sliding in at number five, the only non-Asian nation, the U.S.: $100,802.
I don't have access to the report, so I don't know their metrics in determining this but I'm sure there's some truth to. It's interesting to think about it, but I'm a little apathetic; who knows what will happen five years from now, let alone in 2050. Included in the survey also reveals that the super rich in Singapore value 'reading' the most, whereas other emerging markets' millionaires value material and time consuming things more. Interesting.
Thoughts?