Would You Move to Singapore? Facebook's Saverin Has

CF
Points)
on 6/23/12 at 11:39am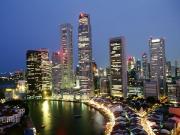 My sister moved to Singapore a few months ago for a consulting position at one of the big accounting firms after spending most of her professional life in North America. I didn't think much about Singapore at the time, and she's been trying to convince to me to pursue a career in banking there ever since. It's certainly caught my attention lately.
This article from Bloomberg is about Eduardo Saverin, Facebook co-founder, who was blasted by critics for giving up his US citizenship after moving to Singapore for supposedly avoiding (all) taxes. First of all, Saverin will pay his fair share of taxes ($365 million) upon leaving the US, although supposedly he's saved $67 million in doing so. As long as he's within the rule of law, I'm indifferent about his decision. Secondly, if he's moved to Singapore, what does that tell you about business opportunities in Singapore relative to the western nations?
Migration is about opportunity, not loyalty. For the past generation, Eastern talent has been educated in the West and stayed, rising to the top of professions from medicine to academia, and founding more than 40 percent of Silicon Valley startups. But now many of those immigrants are going home, lured by Asia's economic growth, infrastructure spending, and improved governance. A report released Tuesday by the Partnership for a New American Economy cites the grave challenge to the U.S. economy from the aggressive efforts of Asian nations—particularly China—to lure back their expatriate students and graduates in the U.S.
Here are some quick facts about Singapore's (not exhaustive)
2010 Ease of Doing Business Report' was #1 by WorldBank
Singapore's economy is the most open to trade according to the WEF's 'Global Enabling Trade Report 2010-2011'
The IMD '2010 World Competitiveness Scorecard' shows Singapore in the top position while Canada secured the 7th rank. Singapore is said to have toppled US from its number one position that it had held for 16 long years.
Thoughts? I am not trying to promote Singapore, but Singapore is often regarded as the unofficial financial hub of Asia. I love where I am and will probably stay here for the long haul, but I've given Singapore a lot of thought and if the opportunity presents itself, I'd probably move to work there. Wouldn't you???