Staycation
PE
Points)
on 8/5/12 at 7:30am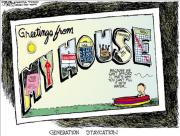 I've decided to take the next week off for vacation. I'm kind of worn down and need some rest. I've been looking forward to not going into work for a while now. I don't have any of the typical vacation plans set up for the upcoming week, so it's going to be much more of a "staycation" (I hate this term by the way).
I have absolutely no desire to go sit on a beach on some tropical island or backpack through Europe and discover myself. I'm not a big fan of getting stuck at airports for hours on end or traveling in general. The thought that runs through my mind is that things are the same everywhere, so there's no real reason to believe going to a distant land is going to be really THAT different from being where I am now. Fancy vacations are overrated in my opinion. I might as well just save my money and stay at home, daydreaming about hypothetical disaster scenarios where everyone in my office can't work their spreadsheets because they don't know how to use Excel and I'm not there. The point of vacation is to chill the fuck out, I can do that anywhere. So, anyways, I am pretty much content to primarily catch up on sleep, get my fat ass to the gym, and work on my super secret side hustle. I figure that these things will take up about half of the waking hours and I'll be bored as shit for the rest of the time. Now I do want to do something to take up that time, but in my ultimate indecisiveness, I have not come to a conclusion about what to do. Whatever, I'll make shit up as I go.
Does anyone have any good suggestions for a staycation?