The Internet Has Lost a Giant
ST
Points)
on 1/14/13 at 8:02am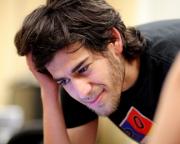 26-year old Aaron Swartz, co-founder of Reddit and the guy who developed the RSS protocol at age 14, took his own life on Friday. He was admittedly depressed, and was facing up to 35 years in prison and $1 million in fines in one of the most egregious cases of prosecutorial zealotry in recent memory. The fight against government control of the Internet will be much more difficult without him.
"Aaron's death is not simply a personal tragedy. It is the product of a criminal justice system rife with intimidation and prosecutorial overreach. Decisions made by officials in the Massachusetts U.S. Attorney's office and at MIT contributed to his death."
Swartz was instrumental in defeating the Stop Online Piracy Act (SOPA) in 2011, and was a prolific hacktivist dedicated to keeping the Internet open and free from government control and intervention. He ran afoul of the Massachusetts US Attorney's office when he wrote a script to download hundreds of papers from JSTOR - a service he had legitimate access to.
In response to his suicide, MIT's website was hacked by Anonymous who posted the following:
"Whether or not the government contributed to his suicide, the government's prosecution of Swartz was a grotesque miscarriage of justice, a distorted and perverse shadow of the justice that Aaron died fighting for - freeing the publicly-funded scientific literature from a publishing system that makes it inaccessible to most of those who paid for it - enabling the collective betterment of the world through the facilitation of sharing - an ideal that we should all support."
MIT has pledged to investigate its own role in Swartz's suicide, but it is important to note that JSTOR wasn't coming after Swartz for anything and that this persecution was being led entirely by Mass. US Attorney Carmen Ortiz.
The Internet has lost one of its most creative champions, and he will be sorely missed.
Rest in peace, Aaron.
Tags: