The USADA are a Bunch of Dopes

AM
Points)
on 8/24/12 at 10:44am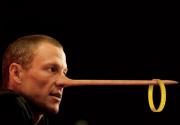 When I woke up this morning I about died when I saw that Lance Armstrong was giving up the fight against USADA charges of doping, which will see him stripped of all 7 of his titles, his gold medal and hand him a lifetime ban from cycling.
I have been dealing with claims that I cheated and had an unfair advantage in winning my seven Tours since 1999. The toll this has taken on my family and my work for our foundation and on me leads me to where I am today -- finished with this nonsense.
Obviously Armstrong is anything but a quitter. For god's sake the man survived late stage cancer. This was still beyond surprising to me. Here is a guy who passed every conceivable test put in front of him and yet the USADA is coming after him with a bunch of eyewitness accounts from the likes of proven doper Floyd Landis and others from his team. I can't imagine that anyone who is poked and prodded as much as Armstrong would be able to pull off 500 clean tests over the years without so much as a false positive. Maybe he did. Bonds got away with it for a long time.. The man has done so much both for and outside the sport that at this point it is time to let it go. I'm not sure that is is an admission of guilt as much as it is just capitulation after years of fighting an uphill battle.
It is very hard however to believe that he didn't when every single person it seems in cycling has been. Maybe this is why the sport seems to be such a joke nowadays. Granted, the USADA now has to submit a written explanation and rationale to the World doping body and the international cycling union I think. Maybe Lance is counting on that to be so lacking that public opinion stays his way allowing him to keep his titles. I don't know. Is this just a witch hunt? Or did Lance pull off one of the greatest doped up runs in sports?