When did you "get" finance?

PE
Points)
on 8/13/12 at 5:30pm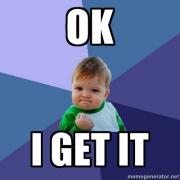 When did you first "get" finance? I know this is kind of a silly question, but it struck me as a good discussion topic the other day as I was plowing through an LBO model. We learn an absurd amount in school, and the majority of it ends up floating away because it has little or no relevance to our careers. But for the things that do stick, when did you find that you were actually able to apply that knowledge, draw conclusions from it, and add value?
Follow my reasoning here – take, for example, intro level finance and accounting. You learn about debits and credits, FIFO & LIFO, the time value of money, and how to (almost) always trust the wisdom of NPV analysis when choosing among projects. All interesting things, but when you're in school and these concepts have little or no bearing on your life beyond that which you need to know for the exams, they remain just that: concepts in abstraction. Even in all those interviews you prepped for, where you could walk anyone through a DCF, track a $10 change in depreciation through the three financial statements, and explain how leverage amplifies returns, did you really get what all that means? For me, the "a-ha!" moment involved capital expenditures.
Sure everyone knows that they're listed on the cash flow statement under investing activities, you have "capitalized" this and "capitalized" that, and you learn to dutifully subtract the CapEx as a key step to arriving at free cash flow. While performing diligence on a company back in my banking role, I noticed that the company had an extremely high amount of "capitalized" software development costs – we're talking a CF/CapEx ratio of like .05x. This struck me as odd, but not completely off-putting as the company's EBITDA was high, and the industry loves EV/EBITDA multiples. Regardless, I dug a little deeper, teasing out maintenance versus expansion CapEx, and trying to get a better handle on the company's internal financial controls. I learned that the company was arbitrarily capitalizing its software development costs and amortizing them over management's "estimation of the useful life of the software." In other words, the company was breakeven at best, and management's aggressive accounting painted a questionable picture of the company's financial health. I presented my findings later that week, and my analysis was the basis for our subsequent conversations with management. I added value!
Arriving at even this tiny conclusion on my own without any guidance from an Associate, VP, etc. made me feel like a champ. Call me a nerd, but it felt great to have used some intellectual horsepower that day. WSO, when did the "a-ha!" moment happen for you?