Would You Work for the Mafia?

CF
Points)
on 7/16/12 at 5:30am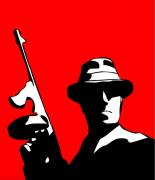 I'll be honest here, I've been watching Breaking Bad and I'm very curious about the subject. Mafia employs accountants and "Corporate strategy" type of people and I've been wondering: would you guys do it?
Here are a few arguments for/against working for the Mafia/Cartel:
If you work for the Mob at least you're not manipulating the LIBOR. The ethic is debatable but people could argue that Bankers are evil too
The risk is obvious so that's an argument against doing it.
It's damn exciting compared to Banking/corporate finance. It's the only accounting position which involves adrenaline
You'll have a gap on your resume if you leave and want to go back to a "normal" job. If they let you get out at all...
It's a growing business, not a lot of down cycles

Have you got any clue on how they recruit people? Have someone ever contacted you to do something even remotely related to that?
Associate Editor at Mergers & Inquisitions
@AusartThomas