compensation in finance vs. technology sector. mind blown. different career paths?
Points)
on 3/19/12 at 5:33am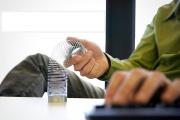 A few of my close friends are graduating this year from college with jobs lined up in the technology industry. And I was taken back by the offer packages that they received
offers from nvidia, Amazon, facebook, etc. each of them with base salary 95k+ and signing bonus and stock options which take them up to over 130k for the first year... I realize that silicon valley is expensive but so is nyc and I feel like these tech firms probably have some more perks.
Compensation is always being something highly emphasized about financial services industry and probably one of its main attractions but I never realized that the pay in tech and IT was so comparable and better on the entry level.
I was also a bit of tech head through HS but decided to focus on economics and finance cause promise of high finance. but never realized that engineering could be so lucrative.
So I think some of the younger readers here shouldn't be too tunnel visioned about finance like I was in a way and really explore other options because compensation wise they might be just as good.
Anyone else have similar discoveries or thinkings after deciding to pursue finance?