Pages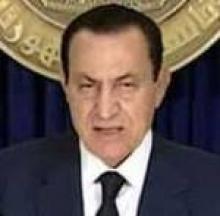 Never in my life did I believe this day would come, a stalwart of tyranny came crashing down today - President Hosni Mubarak bowed to the will of the people and resigned. This gives me great hope for the future of the Muslim world, hopefully democracy will follow in all of these surrounding countries.
Though there are a few complications that were brought about by his resignation - such as the fact that they cannot change the constitution that heavily favors the government - I think all these issues will be resolved. God willing, Egypt will become a beacon for democracy in the Arab world in the manner Bush hoped Iraq to be. I am a Muslim and strongly believe that Islam, democracy, human rights, and the rule of law are very compatible. I just hope that the rest of the Muslim world embraces that truth.
Without a doubt, this is the happiest day in my life so far. I have hope for a region that I love so much, but have seen oppressed for far too long.
The WSO Advantage - Land Your Dream Job
These 6 FREE Financial Modeling Lessons
Can Help You Land Your $100k+ Dream Job
Our Fun Excel Training and Challenge Contest
DCF Modeling, Tons of Free Templates & Video Tutorials
Valuation Lesson on Trading Comps
Cash Flow Modeling and more!
I would normally sell this for at least $200, but we're offering it for free as a sweet bribe to join our community of 350,000+ members. See you on the inside!
Lazy? Join us and get the 6 free lessons with 1 click below!
6 Free Financial Modeling Lessons...and More.
Enter e-mail to get our Modeling Tutorials (Worth $200+)
Upcoming Events
Oct 10 2015 - 8:00am

to

Oct 11 2015 - 8:00am

Oct 10 2015 -

1:00pm

to

2:00pm

Oct 11 2015 - 8:00pm

to

Oct 12 2015 - 9:00pm

Oct 14 2015 - 8:00am

to

Oct 15 2015 - 8:00am

Oct 15 2015 (All day)

to

Oct 16 2015 (All day)
Poll
Long term, which career path interests you the most?
Accounting
0%
Asset Management
7%
Commercial Banking
1%
Consulting
5%
Corporate Finance / Strategy / Development
8%
Entrepreneurship
6%
Equity Research
4%
Fintech
2%
Hedge Fund
21%
Investment Banking
10%
Investment Advisor / PWM
1%
Private Equity
16%
Prop Trading
1%
Real Estate
5%
Sales & Trading
3%
Venture Capital
5%
Other Finance Role (academia, non-profit, government, legal, etc)
1%
Other - Non Finance
2%
Total votes: 481