Significant Other Drama at the Office
Pages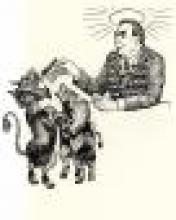 Moderator Note (Andy): Best of WSO - this post originally went up April 2008 and we thought it deserved to go back on the homepage for those who may have never seen it.
What's the worst significant other drama you've seen or personally experienced while at the office?
What do you do if you're on the receiving end? How do coworkers typically react? Is it normal to see gf drama, or is it something to be embarrassed about?
Have you ever seen a girlfriend or wife do something crazy like show up at the office and yell "Come home now or we are OVER!"?
My gf is very um... emotional, and as I get closer to my start date, I'm afraid she'll do something dramatic when I start working crazy hours.
Don't Miss This Awesome Related WSO Content
Upcoming Events
May 30 2015 (All day)

to

May 31 2015 (All day)

May 30 2015 - 8:00am

to

May 31 2015 - 5:00pm

Jun 1 2015 -

6:00pm

to

7:00pm

Jun 2 2015 -

8:30pm

to

9:30pm

Jun 4 2015 - 8:00am

to

Jun 5 2015 - 5:00pm
Poll
What's your favorite suit color for work?
Charcoal / Charcoal pinstripe
24%
Black pinstripe
4%
Brown / Brown pinstripe
2%
Gray / Gray pinstripe
8%
Navy / Navy pinstripe
60%
Other
2%
Total votes: 180