Social networking for bankers

CO
Points)
on 3/29/12 at 7:13am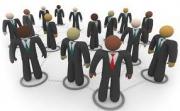 Hail monkeys,
I recently got a FaceBook invite from a VP whom I hold in very high regard. His page is very professional; suits in most photo, pictures with finance superstars, inspiring quotes, you name it.
So as a new arrival on this scene I'm looking to establish a professional profile of my own. What is your advice on online social networking proflies for career networking?
What type of photos to post up? What type of quotes, slogans etc? How would you go about creating a page that highlights professionalism and ambition but doesn't come off as too pretentious or ostentatious?
__________