A Little Pension Fund Love
O
Points)
on 1/9/13 at 10:30am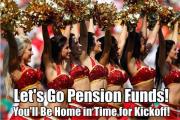 Morning Monkeys,
I've come to notice very little love for pension fund jobs here on WSO. Do they pay as much as PE or IBD? Nope. But there some real highlights to jobs at pension funds, especially public employee pension funds, namely that they tend to be 9-5 jobs, and many really love CFA charterholders (see, they're good for more than just ER and AM!). Also, I hear that many offer these peculiar, seldom heard of benefits called "pensions" where, after a period of time working, they pay you to not work. Crazy!
How good/bad is the pay specifically you might wonder. Since it can be tricky to find NYC pension fund salaries, I'll give you some insight into what employees at VRS (Virginia Retirement System) here in Richmond make (since all Virginia state employee salaries are online and easily searchable). You can adjust for cost living as necessary for your location.
Some quick background, VRS is the Virginia State Employee's pension fund and as of June 30, 2012 the fair value of the fund's total investments was $53.5 billion. They invest in many different asset classes including private equity and hedge funds, with private equity making up 11% of their total fair value (roughly $5.9 billion).
Their investments division - the area that would interest those on this site - appears to be divided into 5 positions below the CIO, which from bottom to top are, Investment Analysts, Investment Officers, Senior Investment Officers, Portfolio Managers, and Program Directors. Sadly, the data I have is from 2011, but this should be a pretty good representation of pay:
Investment Analyst - This looks to be the entry level position for VRS and from the salary database, it looks like the starting salary is $71,400 base. I don't know what the bonus structure looks like for this position, but as you'll see in the remaining positions, one certainly exists.
Investment Officer - What appears to be the next level up, the salaries for investment officers range from $108,200 (which includes a $20,000 bonus) up to $125,250 (which includes a $15,000 bonus).
Senior Investment Officer - Salary range for senior investment officers appears to be $126,000 (no bonus) to $171,500 (which includes a $35,000 bonus). It should be noted, the largest bonus (which they're calling an "incentive payment") that I saw was $40,000 for this position.
Portfolio Manager - Salary range for the portfolio managers appears to be $184,600 (which includes a $25,000 bonus) to $300,000 (which includes a $100,000 bonus).
Program Director - Salary range for program directors, who sit just below the CIO appears to be $360,777 (which includes a $120,000 bonus) to $420,519 (which includes a $180,000 bonus).
CIO - Granted, there's only the one, but he made $733,500 which includes a $340,800 bonus.
Source: http://datacenter.timesdispatch.com/databases/sala...
Take off of this with a grain of salt since I'm getting this data from a salary survey and not an official pay scale. But, all in all it seems like pension funds (well, VRS at least) are a pretty good gig, especially for future CFA charterholders. Any pension fund guys on WSO? What did you think? Have any of the younger guys considered working at a pension fund? If not, why not?
Tags: