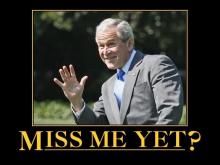 When the economy stalls, many people look for someone high up to blame. Some believe President Bush is more accountable for America's lackluster growth, even though he's been out of office for 4 years now. Others believe President Obama is spending America into a hole that we won't be able to dig our way out of. This debate isn't new, but the suggesting that 43% of Americans blame Bush for our economic woes, while 14% put Obama at fault.
As America struggles to climb out of recession, who do you think bears the most responsibility for our economic troubles: President Bush or President Obama?
Upcoming Events
May 24 2016 - 8:00am

to

May 25 2016 - 8:00am

May 29 2016 (All day)

to

May 30 2016 (All day)

Jun 1 2016 - 8:00am

to

Jun 2 2016 - 8:00am

Jun 8 2016 - 8:00am

to

Jun 10 2016 - 5:00pm

Jun 15 2016 -

7:30pm

to

8:30pm
Poll
Who is your favorite Hedge Fund manager?
Bill Ackman
13%
Steve Cohen
8%
Ray Dalio
18%
Ken Griffin
8%
Carl Icahn
11%
Jim Simmons
5%
George Soros
10%
David Tepper
6%
David Einhorn
9%
Seth Klarman
8%
Other / None of the above
5%
Total votes: 316