Bush vs. Obama: Who Messed Up the Economy More?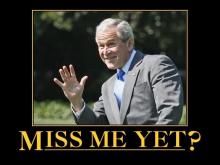 When the economy stalls, many people look for someone high up to blame. Some believe President Bush is more accountable for America's lackluster growth, even though he's been out of office for 4 years now. Others believe President Obama is spending America into a hole that we won't be able to dig our way out of. This debate isn't new, but the suggesting that 43% of Americans blame Bush for our economic woes, while 14% put Obama at fault.
As America struggles to climb out of recession, who do you think bears the most responsibility for our economic troubles: President Bush or President Obama?
The WSO Advantage - Land Your Dream Job
These 6 FREE Financial Modeling Lessons
Can Help You Land Your $100k+ Dream Job
Our Fun Excel Training and Challenge Contest
DCF Modeling, Tons of Free Templates & Video Tutorials
Valuation Lesson on Trading Comps
Cash Flow Modeling and more!
I would normally sell this for at least $200, but we're offering it for free as a sweet bribe to join our community of 350,000+ members. See you on the inside!
Lazy? Join us and get the 6 free lessons with 1 click below!
6 Free Financial Modeling Lessons...and More.
Enter e-mail to get our Modeling Tutorials (Worth $200+)
Upcoming Events
Oct 5 2015 - 9:00am

to

Oct 6 2015 - 9:00am

Oct 7 2015 - 8:00am

to

Oct 8 2015 - 8:00am

Oct 7 2015 - 8:00am

to

Oct 9 2015 - 5:00pm

Oct 7 2015 -

7:00pm

to

9:30pm
Poll
Long term, which career path interests you the most?
Accounting
1%
Asset Management
7%
Commercial Banking
2%
Consulting
4%
Corporate Finance / Strategy / Development
9%
Entrepreneurship
7%
Equity Research
3%
Fintech
2%
Hedge Fund
19%
Investment Banking
9%
Investment Advisor / PWM
1%
Private Equity
18%
Prop Trading
1%
Real Estate
6%
Sales & Trading
3%
Venture Capital
5%
Other Finance Role (academia, non-profit, government, legal, etc)
1%
Other - Non Finance
2%
Total votes: 382