Concessions for Taxing The 1%

Points)
on 12/5/11 at 4:15pm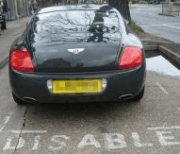 In the near future, the bush tax cuts will expire and another debt ceiling debate will begin. With that being said, I just do not see the top 1%, or even the .01%, escaping higher taxes. Though, is there any way America can coax the rich into willfully paying higher taxes?
What if we could offer minute public benefits to those that have to pay higher taxes? For instance, take this short list:
- What if the 1%ers became eligible to park in handicap parking spaces for 2 years.
- Or, the .01%ers got expedited passport service for free
- Even better, what if the taxed, rich population received a fast pass lane at the DMV
I must admit that this post is essentially a paraphrase of a WSJ opinion piece months ago, yet the fundamental idea has stuck with me for some time now. Since the 1% only represent ~3,000,000 people nationwide, would anyone even notice a couple occupied handicapped spots every once in a while? Maybe some people might notice that a handful of Bentley drivers have suddenly become disabled; otherwise I highly doubt the concession would cause that big of a scene.
Maybe it is time for legislators to get creative in Washington in order to tax the wealthy. Honestly, I think we can all stomach to trade a fast pass lane at the DMV for the holistic benefit of receiving more tax revenue.
Does anyone have any better concessions for the rich in return for higher taxes?