Did Wall Street Cost the Dems the Election?
ST
Points)
on 11/9/10 at 6:05am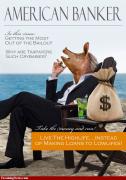 I find it odd, but it seems to me that a great deal of President Obama's biggest critics come from his own side of the aisle. Bill Maher springs to mind right off the bat (full disclosure: I'm a big Bill Maher fan - much to my wife's chagrin), but there are many others like him on the Left who think Obama and the Dems have done a lousy job with the opportunity they've had since his 2008 victory.
Now that we're at the post-mortem stage of last Tuesday's Republican rout, one liberal professor from UT Austin (jeffrey chiang's alma mater!) suggests that Obama's cozy ties with Wall Street were at fault and insists, "Obama must break his devil's pact with the banks in order to succeed." The good professor isn't wrong.
While I consider the bulk of Galbraith's piece to be leftist hand-wringing over the abject rejection of the Democratic Party by the voters last week, he makes some good points. One thing he and I agree on is that Obama's failure to rein in the banks when they were against the ropes was a critical error that cost our economy any real hope of a fast recovery and probably cost Obama re-election.
But one cannot defend the actions of Team Obama on taking office. Law, policy and politics all pointed in one direction: turn the systemically dangerous banks over to Sheila Bair and the Federal Deposit Insurance Corporation. Insure the depositors, replace the management, fire the lobbyists, audit the books, prosecute the frauds, and restructure and downsize the institutions. The financial system would have been cleaned up. And the big bankers would have been beaten as a political force.
I realize this is a banking forum and a lot of you probably think that the way the banks were dealt with was just hunky-dory. After all, we got back to huge bonuses just a year later, right? But over the long term - a concept Wall Street is incredibly myopic about - these actions have brought about at least a generation of hatred and mistrust of Wall Street that wasn't previously there among the American population.
Americans used to look at Wall Street and think about the possibilities: starting a business, growing funds for retirement, funding innovation, etc... Now people look at Wall Street and feel like they need protection from it. While Jimmy Cayne and Dick Fuld lost their jobs when their firms went under (and walked with hundreds of millions), and John Thain and Ken Lewis were shown the door, not a single one of the principal architects of the crisis has fallen on his sword. Not a single one has even apologized.
Obama's association with the big banks and their lobbyists (Goldman Sachs was his single largest campaign donor) has come back to haunt him and his party, because the American people are at least smart enough to see that the banks got what they paid for. It'll be interesting to see if this new class of GOP victors, who largely disavowed any association with the big banks, are willing to put their money where their mouths are.