How To Get a Drink at a Busy Bar
ST
Points)
on 8/4/12 at 7:30am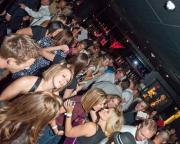 Andy note: "Blast from the past - Best of Eddie" - This one is originally from April 2010. If there's an old post from Eddie you'd like to see up again shoot me a message.
Some of you older guys might be wondering why I would post something like this. The answer is that the younger guys need to hear it. That, and there is far too much shit being directed at Goldman for me to choose from, so I'll default to my second favorite topic.
As a former bar owner and "sufferer" of hereditary alcoholism, there is little more frustrating to me than waiting at a crowded bar behind some dipshit playing "Stump the Barkeep" with orders like Pink Ladies, Grasshoppers, Appletinis, and other brainless concoctions. The only thing worse, I think, is the asshole ordering for a party of 8 who gets to the bar without knowing what everyone wants.
It is for these reasons that you're more likely to find me at a dive bar than at 1Oak. Whichever your preference, bar etiquette is not something to be ignored, especially when the place is slammed. With that in mind, the good folks over at Art of Manliness published this guide to getting a drink at a crowded bar. The advice is written by a bartender, and is correct across the board.
The best tip of the bunch is the first one. Tip, and tip big on the first round. Your bartender will be on the lookout for you whenever you get near the bar after that. Pick one drink and stick with it. That way, you just have to catch the bartender's eye and hold your drink up, and he'll have another one ready for you by the time you make it to the bar.
The only thing I would add to this guide is the advice to drink like a grown up. Experiment at home if you have to, but decide on a signature drink and stick with it. It doesn't have to be complicated. In fact, the less complicated the better. It can be beer or wine, or a single liquor (either by itself or with a single mixer). As soon as you start mixing liquors in one drink (or multiple mixers), you're tying the bartender up and making things miserable for everyone else. Long Island Iced Teas, Fuzzy Navels, Zombies, etc... just make you look like a jackoff.
For those curious, my drink is a rum on the rocks - preferably Mount Gay or Goslings. The advantage to hard liquor on the rocks (or neat) is that you receive a "rocks pour". This is something pretty much unknown outside of bartender circles, but when someone orders a single liquor on the rocks, the bartender will always pour you more liquor than would go into a mixed drink. Usually, they'll fill a tumbler for you, which is the equivalent of two drinks mixed.
It's undeniable that booze is a part of Wall Street culture, so you're better off learning how to do it right and taming your inner sorority girl sooner rather than later. Forget about the appletinis and man up. If you can't stand the taste of liquor stick with beer or wine. But for God's sake, don't make me wait behind you at the bar while you try to pull your head out of your ass.
That is all.