Investment Banking in China, Briefly
IB
Points)
on 6/19/12 at 10:30pm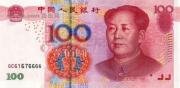 This week I'm going to try to give a high level view, based on my personal experiences, on what the investment banking industry is like in China. There are obviously similarities to the U.S., but also a number of key differences as well.
<!-break->
There are basically 2 distinct flavors of investment banks in China: the huge guys, and everybody else.
The huge guys group does include all the bulge brackets we've all come to love, but they really don't have much of a share in the market here. China is dominated by the domestic banks and securities firms.
Everybody else is, well, everybody else. Some of the bigger international "middle market" firms are supposedly here with an office, but my they aren't doing much beyond maybe a cross-border M&A deal here and there. There are also small international-run "boutiques" that also focus on cross-border M&A.
In terms of new issuances, China is all equity. There technically is a bond market, but it's quite small and underwriting is dominated by the mainland houses. Developing an active bond market is one of the goals of the CSRC (the Chinese securities regulator), but it's not here yet. Bloomberg had a good article the other day about the current situation of the bond market in China.
The mainland exchanges, located in Shanghai and Shenzhen, list only the largest private and state-owned companies. Foreign companies cannot list on Chinese exchanges, and outside of a program called QFII, foreign investors cannot buy shares on mainland exchanges either. This leaves a few options for smaller Chinese companies to raise capital: list in Hong Kong, or try to go public overseas.
Attempting to go public overseas is often more appealing to the average mainland business owner then trying to do so in Hong Kong. Hong Kong investors have a bit of a natural suspicion toward anything Chinese, so to fill the gap, a number of "boutique investment banks" popped up in the mainland to facilitate overseas listing for small Chinese companies, with dubious results.
China is in theory undertaking reforms to allow more companies to list on its exchanges, and to allow more foreign investment in yuan-denominated debt and equity. Whether or not this actually happens is a different story. I think the biggest hurdle for reform in the Chinese financial markets is the widespread fraud that permeates every aspect of the industry here, from insider trading to accounting fraud.
My question is: Even if you could, would you invest in a company listed on a Chinese exchange?
!-break->