"____" Of The Month Clubs - A New Trend in Startups
O
Points)
on 8/21/12 at 4:30pm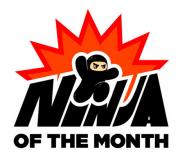 When a great idea and a disruptive business model comes along, copycats are sure to follow. Such is the case for one of the better startups to come along this year:
Dollar Shave Club
For those that don't recall, Dollar Shave Club is a new company that offers to send a monthly supply of razors to your doorstep at a fraction of the price that you'd have to spend buying new blades at your local convenience store. In essence, it acts as a Netflix for razors and is highly disruptive to the traditional razor blade market.
It also has a legitimately great marketing video, a fun website, and copy that actually makes you laugh.
It wasn't long until it spawned copy cats. And while these new startups aren't necessarily hawking razors, they are trying to get men to sign up for monthly deliveries. Let's take a look at a couple and see how they stack up when compared to DSC.
Before I delve into the copy cats, I want to remind everyone that these sorts of subscription services are by no means a new thing. So-called "___" of the Month Clubs have existed for a long time. Typically, they'd come in handy when someone didn't know what to get their mom or dad for their birthday. So, they'd sign them up for a Cheese of the Month Club membership, or a Beer of the Month Club, or Coffee, or Tea, or...you get the point.
Dollar Shave Club was, as I can tell, the first to take this concept and use it to truly disrupt a marketplace.
Two startups have recently emerged trying to capture the newly revitalized "_____" of the month club market:
Now, if you need more refreshing on Dollar Shave Club, I recommend either checking out their website, or MailmanBitesDog's blog post about them from earlier this year.
Now, let's dive into the copy cats:
Manpacks: Manpacks offers "Manly Goods. On a Schedule." What does that actually entail? Well, apparently it means you can get new underwear, socks, condoms, and shaving supplies shipped to your doorstep every three months, with the ability to alter your custom "manpack" at any time.
The message of the founders is that they want to give their subscribers more free time to "slay dragons and achieve the goals you aspire to."
I've got to be honest here, reading through the copy on their website doesn't make me laugh, nor does it seem very original...it's like they they threw a bunch of geek-speak at a wall and hoped it would stick. It all seems very, very forced.
Further, how is this really a disruptive concept at all? Maybe I'm alone on this, but I don't find myself replacing my boxers and dress socks every three months. It's almost like they're trying to disrupt the washing machine market. And, frankly, I'm not sure I think it makes much sense. I don't even have to go to a store to buy these things, I can already do all of this online.
Manpacks, which is also something of an insulting name, sells third party products, as opposed to the proprietary products of DSC, and seems less intent on disrupting a market or solving a real problem as it does on trying to solve invented problems and cash in man's perceived and exaggerated laziness. And again, laziness which I can already get around by buying things online. Plus, by not selling proprietary products, they aren't able to disrupt a market in terms of product cost a la DSC, and that means low margins unless they do massive volume.
Lastly, looking at the About page on the website, it's like the founders played a game of "startup lingo mad libs" for everything on there. From the copy to their titles ("Custom Experience Officer), it just seems to be trying so hard. Perhaps I'm being a bit too harsh, but I just don't see the point of this.
Urban Cargo: Urban Cargo offers a unique take on the "____" of the Month Club concept. Per the website:
For $14.95 per month (Free Shipping), you will receive personalized men's skin care, hair care, or shaving products from award winning brands based on your grooming profile. We analyze your skin type, hair type, shaving regimen, among other attributes to make the best product selections. Everything is tailored to you so you'll only get what is best for you.
Now, I'm definitely not the type of guy who would sign up for this sort of thing. And in some sense, I find myself opposed to it on the grounds that it furthers the feminization of man. But, I actually do think there is a legitimate market for this.
Rather than following in Manpacks' trail of having subscribers pick the exact products they want to receive, Urban Cargo curates its packages to the subscriber's specific needs. It tailors what you get based on skin tone, hair type (from bald --> flowing locks), facial hair preference, etc. It also lets subscribers rate the items received in each package to help the Company send a better curated package the following month.
Its like a personal consultation at Sephora...only its for men and doesn't require the embarrassment of actually doing this in a public place.
Its products are also third party, so they too lack the proprietary nature of DSC. Though, it'd obviously be a bit tougher for a startup to market a subscription product for an unknown brand of facial cremes and hair gels, so it's tough to knock them for that. If anything, it just means they make smaller margins.
Now, the copy on the website is still a little painful, but I'm probably also a bit of a curmudgeon when it comes to this stuff. It certainly doesn't feel as forced as Manpacks. That said, it doesn't detract from an interesting concept that actually does seem to have legs.
_______________________________________________
Now, I'm sure that there are more "_____" of the Month Clubs out there that provide a new take on what DSC has done, and I'm sure that others are in the works. These are just two big and recent examples of them that target a similar end-market - namely, Men.
What does everyone think? Would anyone here sign up for any of these companies' services? Am I being too hard on Manpacks and too lenient on the others? Does anyone have any crazy ideas for an untapped "___" of the Month Club market? Let me know in the comments.