The God of Quants speaks

Points)
on 1/25/11 at 6:45pm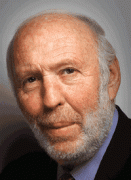 Perhaps one of the coolest guys from the pocket protector posse, James Simons has become an absolute legend in our world of finance, with his army of physicists and mathematicians at the Quant juggernaut Ren Tech, he has beaten and wowed the street year in and year out, showing the world the future of hedge funds and perhaps, changed the game forever.
Now retired and back to his great love of mathematical research, the notorious recluse has given a rare, hour long speech at MIT, and he spoke about work, math, the markets, and life in general.
No, you won't become a quant god watching this and no, he doesn't spill the beans on what strategies they actually employ there, but he does talk about how he started, how he conceptualized Renaissance, Medallion, models, and taking a motorcycle to Colombia.
Video after the jump.
Speaking of what they actually do there, are there any future quant gods here on WSO that can tell me this?
I've always been fascinated with this area of finance, and while I think I'm fairly lucid with math and the sciences, I'm worlds away from understanding (or even thinking of) the strategies they use.
Anybody care to guess what they do there?
They're not your neighborhood HFT shop that's for sure.
Have a good one WSO.
People like Coldplay and voted for the Nazis, you can't trust people Jeremy