The Prince: A Monkey's Review

HF
Points)
on 6/20/12 at 2:30pm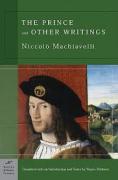 Like it or not, the office environment is in fact a political one, and that leads a lot of us to seek advice from various sources. "The Prince" is one of those books, along with "The Art of War," that's supposed to give us that political savvy, the logic being that the guidance contained within its pages for 16th-century princes can still be applied to today's office monkey.
Although it's a worthwhile read, "The Prince" shouldn't be experienced for that reason alone. In fact, much of the text's reputation among the general public stems from its well-known proposition that it can be more important to APPEAR moral and upright than to actually be so. Deceiving and manipulating others to achieve the stability of the state was something Machiavelli himself witnessed in the Florentine courts of the time, and it still rigorously debated to this day (as it should be).
Here's the kicker, though: most of that aforementioned "OMG SCANDALOUS!!!" stuff is concentrated in one paragraph of one chapter (number 18). The Elizabethan courts of the 1500s didn't take kindly to that, which contributed to Machiavelli's bad press. So it would seem that the scheming, controversial plotting Machiavelli is famous for is a bit overblown.
That's not to say there aren't some excellent nuggets of wisdom here, especially in the latter half. In fact, the statements I found most valuable weren't necessarily political in nature. Here are two:
"One should never wish to fall down in the belief that you will find someone to pick you up."
And,
"Besides this, extraordinary things have been seen here brought about by God: the sea has been opened, a cloud has shown you the road; the rock has poured out water; here it has rained manna; everything has come together for your greatness. The remainder you must do yourself."
So, does "The Prince" put you in the mood to boot up your copy of "Rome: Total War?" Yes.
Does it make you contemplate the nature of man and how he will respond to change? Yes.
But will it tell you how to weasel your way into your boss' seat as soon as he lets his defenses down? Probably not.
Read it anyway monkeys (unless you've done it already), and see if you think Machiavelli is telling you something I missed.
Monkey's Review 1: Barbarians At the Gate
Monkey's Review 2: The Financier
Monkey's Review 3: Decision Points
Monkey's Review 4: Debunkery
Monkey's Review 5: When Genius Failed
Monkey's Review 6: Monkey Business
Monkey's Review 7: Death Of The Banker
Monkey's Review 8: A Journey
Monkey's Review 9: Damn It Feels Good To Be A Banker
Monkey's Review 10: The Quants
Monkey's Review 11: All About Hedge Funds
Monkey's Review 12: The Unlikely Disciple
Monkey's Review 13: Adventure Capitalist
Monkey's Review 14: The Hedge Fund Book
Monkey's Review 15: Investing In Hedge Fund of Funds
Monkey's Review 16: Hilarity Ensues
Monkey's Review 17: The Prince
Monkey's Review 18: Markets Never Forget (But People Do)
Monkey's Review 19: The Money Culture
Metal. Music. Life. www.headofmetal.com