U.S. Government: 54.5 MPG by 2025
IB
Points)
on 8/28/12 at 7:00pm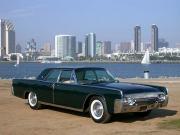 Normally I am a big fan of limited government, but this put a smile on my face today. The Obama administration announced new automobile fuel efficiency standards: 54.5 miles per gallon by 2025. I don't want to start another Barry spat, but this is absolutely one area where we need somebody else, the government, to protect us from our own laziness. Frankly I'm actually a bit disappointed the standards aren't even higher. If we could send Neil Armstrong to the moon and back in 1969, why can't we figure out ways to profitably build cars that are way more fuel efficient than they are today?
The U.S. is a nation known for its automobiles. We have the longest highway network in the world. With the exception of Monaco (which, for all intents and purposes, doesn't really count for this exercise), we have more vehicles per 1000 people than any other country in the world. If we're going to be the car country, can't we at the very least make the best cars in the world?
Fuel-efficient cars don't necessarily have to be low-emission
If Ford developed a 200MPG car that pumped out more pollution than any car ever before, there would still be hordes of people lining up to get it. Why? Because it gets 200 miles per gallon! You could get from New York to Los Angeles with a single 15 gallon tank of gas! Perhaps we should first focus on fuel efficiency and later on the carbon emission business.
Cars can be both lightweight and safe
Boeing has developed an entire airliner, the 787, from composite materials. Surely this same technology can be used to build a Ford Focus. Enough said.
Fuel efficiency should be a point of national pride
Where is the pride in driving a gas-guzzler? I understand its one's freedom to do so, but nevertheless it's just plain stupid. Just because you can doesn't mean you should.
Aside from the current brute force method of the government mandating fuel standards, how can we 1) properly incentivize car manufacturers to make high efficiency cars and 2) properly incentivize people to buy them?