Why Millennials Matter to Your Company
Points)
on 7/8/12 at 3:40pm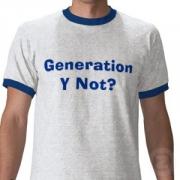 They go by different names – the Millennials, Gen – Y, Net Generation, but they all refer to the same group: people who were born from the late 1970's to the early 2000's. This group of people is now growing up, entering the workplace, and rapidly filling the desks/offices of its predecessors.
As they become more visible in society, several labels have been applied to this group by older generations; that they're lazy, entitled, egocentric, filled with unrealistic expectations. More importantly though, Gen - Y'ers are just different, which could cause some difficulties in being managed by members of previous generations.
But according to a study jointly conducted by University of North Carolina's Kenan - Flagler Business School and the Young Entrepreneurship Council, millennials actually have quite a lot to offer to a business or organization.
So who exactly are the millennials?
They currently comprise of approximately 80 million people in the U.S. and in 8 years, will become 46% of the domestic workforce. They typically have traits and viewpoints unique to their generation, including being more diverse, more educated, more tech - savvy than previous generations. They are also socially connected and extremely ambitious. According to the study, millennials are not shy about being critiqued, but prefer to receive feedback in real time instead of the traditional performance review.
---
So how can they help the company?
1. Many millennials want to learn and grow with the company.
According to the study,
52% of those polled said that opportunities for career progression made an employer attractive.
65% said that personal development was the #1 factor in working at their current jobs.
22% saw training and development as the most valued benefit from their employers.
2. Millennials are digitally well connected.
About a third of millennials value social media freedom as more important than salary when considering a job. That's actually not that bad considering that nowadays, utilizing social media is an important element of marketing a product or service. Having employees on Facebook, Twitter, etc. can really expand a company's digital outreach. For instance, 66% of the millennials in this study said that they would look up the place that their friends had 'checked - in.'
3. Millennials have an entrepreneurial spirit and want to lead.
92% of those surveyed stated that entrepreneurial education is vital for the economy and job market. In addition, 30% of millennials said that they had experience starting a business in college and 35% currently have a side business as a working professional.
I know that many of us on this site fall into this category of being a millennial, including myself.
What do you guys think? Do you think these qualities hold true for our generation?