Feminism

AM
Points)
on 4/26/12 at 8:06am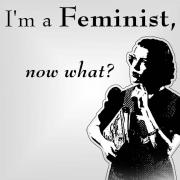 So recently I had the "pleasure" of attending a community service event for my scholarship that was a free speech rally. The subject was Feminism. Now I consider my self pretty liberal when it comes to social freedoms, etc. but during the debate, I raised a subject perhaps viewed by some as sexist.
Naturally, I was one of about 4 males there fulfilling an approx 8:1 female to male ratio and was nearly jumped. What does everyone else think about Feminism and Feminists in general? Glass ceiling etc? I'm all for equality, but some distiguinishing differences exist between the sexes that Feminists seem to think if acknowledged are "sexist".
Any thoughts?
"History doesn't repeat itself, but it does rhyme."