Greatest Scams Running

AM
Points)
on 12/13/10 at 9:36pm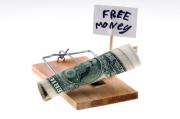 I think there are some scams prospective monkeys should be aware of..
After a recent enlightening conversation with a few colleagues regarding shitty internship scams, I decided to post these scam artists..
Please do not waste your time with the following firms and stay away-
Aleutian Capital Partners
Agile Equity
Daroth Capital Advisors
Surprisingly, all these firms (predators?) "recruit" at NYU.
Please feel free to add to this list.
------------ I'm making it up as I go along.