New Chinese Anti-Carrier kill weapon operational. What now?
Points)
on 12/29/10 at 6:01pm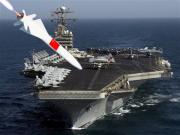 I am worried. Any ideas on how to counter this?
In a hypothetical situation where we had to defend Taiwan from a Chinese invasion, our carriers will be sitting ducks because of this new missile. Any ideas?
http://www.ft.com/cms/s/0/3e69c85a-1264-11e0-b4c8-00144feabdc0.html#axzz19Vdtr2Xy